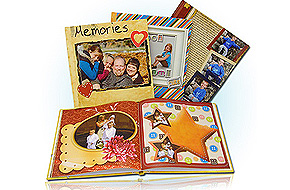 Save yourself TONS of money and TONS of time by creating custom photo books with your photos. These make the perfect gift and the perfect way to preserve your memories! We just returned from an amazing visit with my 95-year-old grandparents, and I'm going to make photo books with the pictures from our trip — and send one to them.
This deal has me simply dumbfounded. There's no better way to put it! ArtsCow.com is offering 8 (EIGHT) FREE 8×8″ hard-cover custom photo books. All you need to pay is shipping ($7.99 per book).
These books are incredibly easy to make, and there is no need to print the photos, cut them down to size, glue them in, etc. Modern scrapbookers, unite!
Here's how to get started.
Create an account at ArtsCow.com by clicking here. (If you already have an account, you can still use this deal!)
Next, click the "Register" link in the row of links in the top right-hand corner of the page.
Enter your information to create your account.
Click "Credit & Discount" in the left-hand navigation bar.
Enter code 88820BOOKS in the text box, then click the "Validate" button.
Start creating your 8 FREE 8×8″ hard-cover custom photo books by clicking here!
Expires: Create your account and enter the code by 3/11/2010, then the code is good for 30 days!